I'm just taking a rest from doing my plate. Well, sige, I'll talk about it briefly. My plate for Design Workshop a.k.a Computer Graphics class is to make an 8-page children's storybook. Even if it's just an 8-page book, it's still excruciating. I can already see myself chasing sleep, which will soon run away from me. So, can you imagine? I'll be drawing stuff using the mouse. If only it isn't due on Friday, I'm sure I should be having so much fun doing it. After all, my baby sister wants a copy.
I am loving photography class. Even if my film thrice did not get in the sprocket (which means I'd have to do it all over again) It's fun to take pictures. Iba yung sense of achievement when you catch a moment. I mean, sabi nga nila, the water in the river is never the exact same. Parang moments - there's no exact, same moment in our lives. Pwedeng maulit, but it's an entirely different context.
At first, I kinda didn't like the thought of teaching kids when I have school. But thank goodness I have (so far) a not-so-demanding schedules (let's exclude Sir Austria cause he's perpetually demanding) that I can singit my side lines. Nakakapagod, pero sa panahon ngayon, kahit student palang ako, kailangan ng kumayod. Andyan ang opportunity, bakit palalampasin.
Hmm. I just realized lately that oo, mahirap na ang buhay ngayon. Why? I'd have my Juan and only pseudo-brother to account for that. He made me realize that I should not be doing what I'm doing lately - magreklamo forever of the work that's been given to me. Yep. Well, a glitch in my system probably. So, thanks, bro, you made me stop and embrace the opportunities that are given to me - mahirap na kung wala. And I know you'll make it. Kaya mo 'yan. I'll always be here whenever you need HELP.
I don't know why but my students now in Southvale are so charming. They're all very much willing to learn, so nakakagana magturo. Ang pretty pa nilang lahat! Yep, all of them are girls.
Nga pala, you'd see me in TXT TUBE in GMA on Friday night, er, Saturday morning aroung 12mn to 1am. They'd be featuring me and Andrew Drilon. Andrew Drilon is a Creative Writing major in UP Diliman. He's a comic book artist. At ang lupet niya. Taas kamay. Saludo.
And finally, I bought an mp3 player. Nope, it's not an iPod. Di ako magsplurge unless i badly need it. Well, I needed a flash disk. So I bought the one with a built in mp3 player - hitting two biggie birdies with one stone. And I'm singing Beatles songs everyday.
Pictures galore, mga chong!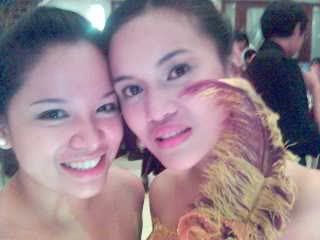 with Janna, my sandwich, on her 18th birthday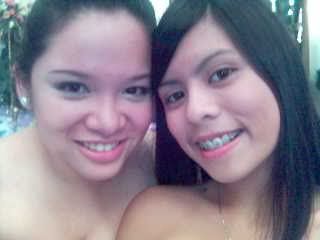 with my bestfriend, Denise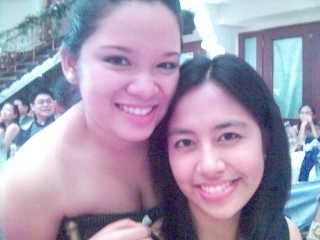 with my Carla, my sis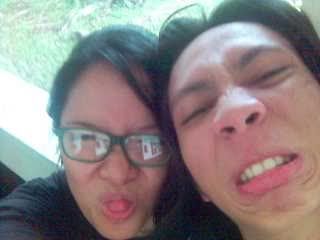 with jacob, my super savior. goofing around.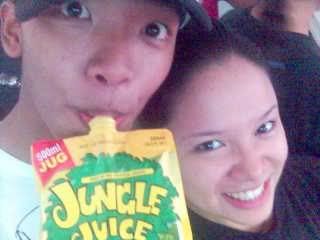 with eshei: ang pinakamatamis na kayup sa balat ng lupa.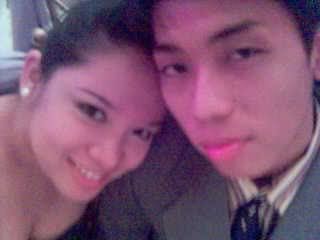 EUTOPIA. =)